By now you've seen all the cool videos about Oculus Rift, and you're wondering how you'll be able to afford the big bucks needed for your pair of these amazing goggles.
Well, there may be a way to get a similar immersed virtual reality experience without breaking your piggy bank, just yet…
BuyBuyRV.com has found 3 Oculus Rift alternatives that give you the All in One VR headset experience, without a cell phone plugged into the headset.
That's right, these headsets include a built-in HD display, their CPU, and run on Android OS.
No cell phone needed!
However, there's just a small gotcha…
Using an All in One VR headset may be slightly more technical for the average VR fan, so if you're not geeky then you'll probably want to stick with the basic VR goggles that use a cell phone screen for the display.
Now let's get to these All in One Oculus Rift Alternatives
---
All in One VR Headset
1. Kissral All in One VR Headset is made from quality materials and has an elegant design with 5" HD screen with a 1280*720 resolution. The Kissral, powered by a Cortex A7 processor, 1GB Ram and 8GB available ROM for storage. This beast also has a VR remote with multi-language support. (Currently selling on Amazon, click here to check current prices)
---
2. BRDEN All in One VR Headset uses new technologies and is also powered by Cortex A7 with Android built-in. This beast sports a 1280*700 display resolution. Imagine a personal IMAX cinema of your own. The BRDEN VR Headset designed for maximum comfort, it's lightweight, a precise fit, and specially engineered for an extended immersed experience. (Currently selling on Amazon, click here to check current prices)
---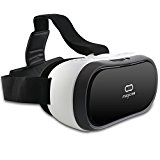 3. Magicsee M1 All in One VR Headset is at the top of the range for the all in one VR headsets. This amazing headset comes equipped with RK3288 Quad Core ARM Cortex A17 CPU processing up to 1.8 GHz, GPU Mali T764, 2GB DDR3, 16GB Flash, Wi-Fi 2.4G, 802.11 B/G/N. Bluetooth BT4.0, Nibiru operating system developed based on Android 5.1. More power for the more extreme virtual reality enthusiast. (Currently selling on Amazon, click here to check current prices)
---
There Isn't Any Oculus Rift Alternatives
As I said in my post on Headsets for iPhone users, the VR market is only warming up, and by Christmas, there will be too many headset choices to pick from this holiday season. If you're not ready to dive into VR head first and spend hundreds of dollars, then you can still experience watching 360 movies with Google Cardboard.
But you didn't come here looking for another cardboard VR headset, right?
No, you want the Oculus Rift because there isn't an alternative headset, but it's out of your range right now so you want an Oculus Rift alternative just until you can buy the real deal.
These 3 Oculus Rift alternatives could be the answer, and maybe, just maybe, you'll get lucky for Christmas.
With all the hype, my guess is there will be a lot of unwrapped virtual reality gifts this holiday season! 🙂
10 Best Selling All In One VR Headsets (Updated Daily)…
Updated on 2018-04-19 at 12:16